Surgeons at NYU Langone Health have achieved a groundbreaking milestone in xenotransplantation. They transplanted a genetically engineered pig kidney into a human recipient who had been declared neurologically deceased but was maintained with a beating heart on ventilator support. Astonishingly, the pig kidney not only survived but thrived, functioning optimally for a remarkable 32 days. Pig kidney xenotransplantation is thriving in the human body This achievement marks a significant leap toward addressing the organ shortage crisis and offers hope to thousands of patients in need of life-saving transplants.
The Pioneering Procedure
Dr. Robert Montgomery, a well-known figure in the field of surgery, oversaw the historic procedure, which took place on July 14, 2023. It marked the fifth xenotransplantation at NYU Langone, and observations will continue until mid-September 2023.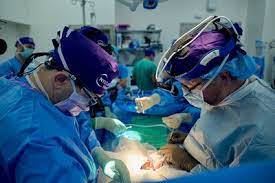 A Triumph Over Rejection
One of the primary challenges in xenotransplants is hyperacute rejection, which typically occurs within minutes of connecting an animal organ to the human circulatory system. To overcome this hurdle, scientists "knocked out" the gene responsible for the biomolecule alpha-gal, which triggers rapid antibody-mediated rejection of pig organs in humans. In addition, the pig's thymus gland, responsible for educating the immune system, was strategically placed beneath the kidney's outer layer to prevent delayed immune responses. This combination of modifications successfully prevented organ rejection while maintaining kidney function.
Ensuring Sole Functionality
To ensure that the pig kidney was solely responsible for kidney function, the recipient's native kidneys were surgically removed. The transplanted pig kidney immediately began producing urine without any signs of hyperacute rejection. Throughout the observation period, intensive care clinical staff monitored the kidney's performance, with weekly biopsies indicating optimal levels of creatinine, a key indicator of kidney function.
Ethical Considerations and Partnerships
This ground-breaking surgery was a component of a larger study that the New York State Department of Health and the research ethics oversight board at NYU Langone both approved. Importantly, it was made possible through the selfless decision of a 57-year-old donor's family, who chose to donate his body when his organs were not suitable for transplantation. The nonprofit organization LiveOnNY played a critical role in facilitating organ donation and supporting the donor family throughout the authorization process.
Addressing the Organ Shortage Crisis
In the United States, over 103,000 people are on the waiting list for organ transplants, with the majority in need of kidneys. In 2022, approximately 26,000 people will receive kidney transplants, but the demand far exceeds the supply. Dr. Montgomery, a transplant recipient himself, emphasizes that xenotransplantation offers a promising solution to this crisis.
The GalSafeTM Pig
Revivicor, Inc., a division of United Therapeutics Corporation, genetically engineered GalSafeTM pigs from which the pig kidney and thymus gland used in this ground-breaking procedure came. The U.S. Food and Drug Administration (FDA) approved GalSafe pigs in December 2020 for use in human therapeutics and as a food source for those with alpha-gal syndrome.
Single-Gene Approach
Unlike previous xenotransplants that incorporated multiple genetic modifications, this study demonstrates that a single-gene knockout pig kidney can perform optimally for an extended period without rejection. This streamlined approach, combined with approved immunosuppressive drugs, may pave the way for long-term success in human xenotransplants, particularly kidneys.
Ongoing Research and Future Possibilities
The NYU Langone team used standard transplant immunosuppression medications and rigorous screening to ensure safety. Monitoring of the pig kidney recipient will continue, with data collected over the next several weeks to deepen our understanding of this groundbreaking medical advance. Pig kidney xenotransplantation is thriving in the human body. Dr. Montgomery emphasizes the potential to save thousands of lives through xenotransplantation, highlighting the need for utmost safety and care as they move toward clinical trials.
This groundbreaking achievement in xenotransplantation represents a glimmer of hope for those awaiting organ transplants, bringing us closer to a future where organ shortages are no longer a barrier to life-saving medical procedures.
For more information read this article: https://www.newswise.com/articles/even-treated-wastewater-affects-our-rivers
Read our previous articles: Utilizing 239 Million-Year-Old Fossils to Enhance the Search for Martian Aliens
https://scitechupdate.com/index.php/nasa-research-the-aggravating-climate-hazards-when-warming-reaches-two-degree/
https://scitechupdate.com/index.php/android-14-satellite-sms-for-everyone/
https://scitechupdate.com/index.php/venus-colony-by-2050-ocean-gate-co-founders-bold-plan-a-thriving-1000-people-venus-colony-by-2050/
https://scitechupdate.com/index.php/chemistry-entrepreneurship/
https://scitechupdate.com/index.php/waste-paper-to-battery-components-for-smarts-phones-vehicles/https://scitechupdate.com/index.php/ai-demonstrated-95-accuracy-in-listening-typing-and-data-processing/
https://scitechupdate.com/index.php/nasa-research-the-aggravating-climate-hazards-when-warming-reaches-two-degree/
https://scitechupdate.com/index.php/top-7-technology-trends-of-2023-from-ai-to-5d-technology/
https://scitechupdate.com/index.php/empowering-agriculture-in-the-western-u-s-through-dry-farming-in-the-era-of-climate-change