In the intricate web of Earth's impending future, a pivotal NASA research study titled "Aggravating Climate Hazards at Two Degrees Warming" emerges as a guiding compass. This study, like a lighthouse amidst turbulent seas, directs our attention to the intricate interplay of climate impacts as we approach the critical precipice of a 2-degree world. The implications, underscored by the comprehensive insights of NASA's research, paint a crystal-clear picture: the time to mitigate, adapt, and embrace change is upon us. This NASA research continues to reveal the language of rising temperatures and shifting landscapes as our planet's future.
Understanding the Significance
In the relentless pursuit of knowledge and foresight, NASA's research casts a revealing light on the potential hazards that await as global temperatures climb toward a 2-degree Celsius increase above pre-industrial levels. The study delves deep into the complex web of climate repercussions that unfold with this temperature elevation. It is this understanding that propels this research into the spotlight, as it elucidates the intricacies of a changing climate.
As we traverse the pages of this illuminating research, a panorama of interconnected climate consequences emerges. The stark realization that over a quarter of Earth's population could face the torment of an extended season of sweltering conditions transcends historical norms (1950-1979). The relentless grip of oppressive heat tightens its hold, adding an extra month of discomfort to the calendar.
A Duel of Climatic Forces
Further in the narrative, a climatic duel emerges. The Amazon, teeming with life, could morph into a battleground where soaring temperatures and parched earth converge, igniting the threat of rampant wildfires. Simultaneously, the vast American West is poised for an encore of intensified fire weather, testing the land's resilience.
The NEX product's higher resolution, unlike typical projections, aids leaders in crafting precise climate adaptation strategies. Insights empower policymakers, community leaders, and businesses to safeguard lives and livelihoods. This study's results underscore the urgency to act, adapt, and evolve.
In Earth's evolving saga, this NASA research illuminates the path forward, urging us to face intricate climate impacts. As we approach the 2-degree threshold, the message is clear: the time to act is now, as our planet's destiny unfolds amidst rising temperatures and evolving landscapes.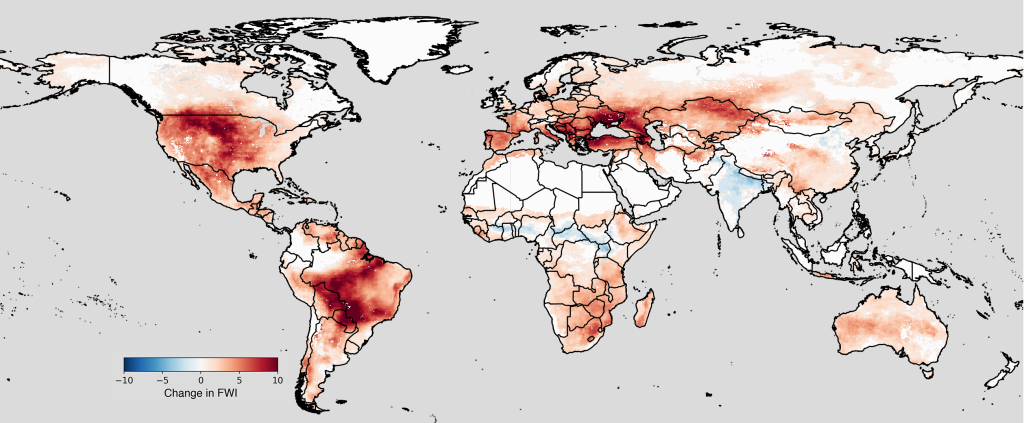 Witness a captivating cartographic revelation: behold a mosaic of hues ranging from passionate red to serene blue, unveiling the dynamic evolution of the "fire weather index" (FWI) by the year 2045. This intricate metric weaves together factors such as scanty rainfall and vigorous winds, painting a picture of regions' vulnerability to intensified fire conditions. The color spectrum conveys a powerful message – red symbolizes the rise of extreme fire weather, while blue signifies a diminishing threat.
Yet, this visual saga isn't just for show; it's the result of meticulous analysis by the NASA Earth Exchange. Armed with highly detailed climate projections, the conclusion is unmistakable: if the course of escalating global temperatures persists, surpassing 2 degrees beyond pre-industrial levels, an ensemble of simultaneous climate impacts could besiege the planet. The prospect is grim, serving as a stark reminder of the intricate dance within our ever-changing climate.
NASA's Earth Exchange (NEX)
Yet, this is just the prologue. NASA's Earth Exchange (NEX) steps in, armed with cutting-edge statistical prowess. They enhance the precision of these forecasts, unveiling a richer picture. Supercomputers in California's Silicon Valley buzz to life, parsing data from aircraft, satellites, and the predictions themselves.
The result? The NEX dataset, a treasure trove of knowledge, is born. This dataset isn't locked away—it's shared with the world. A new chapter of exploration begins, inviting collaboration and understanding.
In the grand tale of untangling Earth's climate intricacies, NASA's study emerges as a beacon. With technology and boundless curiosity, we edge closer to grasping the complexities of our ever-changing world.
further information: https://www.nasa.gov/feature/ames/nasa-study-reveals-compounding-climate-risks-at-two-degrees-of-warming
Combining Climate Impacts
Leveraging NASA's latest research, Ames researchers embark on a meticulous analysis of downscaled projections involving six pivotal climate variables. This comprehensive study covers air temperature, precipitation, humidity, solar radiation, and wind speed, all within the context of a future where warming surpasses the critical 2°C mark.
Two critical climate indicators shine through in this NASA research: firstly, heat stress—the fusion of temperature and humidity impacting human well-being—and secondly, fire weather the intricate combination of temperature, rainfall, humidity, and wind dictating regions' susceptibility to wildfires. Outcomes spotlight escalated global heat stress, with a particular emphasis on areas near the equator.
Ramakrishna Nemani, a senior scientist at BAERI and a co-author of this NASA research, accentuates the mounting repercussions inherent in these climate extremes. The potential aftermath could unleash a cascade of turmoil, ranging from wildfires and floods to landslides and crop failures, painting a vivid picture of the challenges that lie ahead.
Democratizing Climate Data
Within the framework of this NASA Research, the strategic utilization of the NEX downscaled dataset, crafted from the CMIP6 climate models and offering worldwide daily climate projections up to 2100, serves as a dynamic tool to capture pivotal extremes that could otherwise elude notice when averaged monthly. This approach amplifies the precision with which potential hazards to human lives, arising from intensely hot and humid conditions, are evaluated. The augmented resolution of local and regional intricacies intrinsic to the NEX product, distinct from conventional climate projections, holds the promise of empowering leaders to sculpt finely tuned strategies for climate adaptation.
other articles: https://scitechupdate.com/index.php/chemistry-entrepreneurship/
https://scitechupdate.com/index.php/empowering-agriculture-in-the-western-u-s-through-dry-farming-in-the-era-of-climate-change/